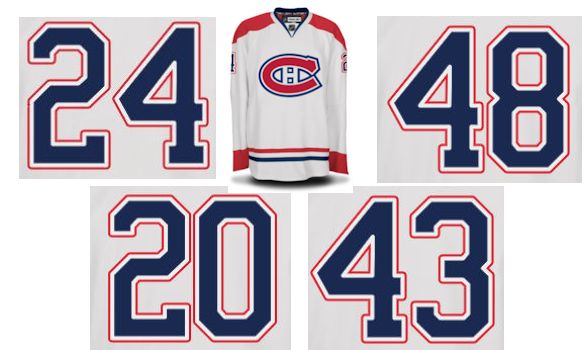 Every season, I post a Blog of the new numbers worn that season.  This season waited until the last month to compile the 2013-14 edition where there have been 13 jersey number changes/additions from one season ago.
First let's start off with a number switch from last Season.
#24 – Jarred Tinordi:  Last season Jarred Tinordi wore #42 because #24 was taken by Jeff Halpern.  Tinordi's dad, Mark Tinordi wore #24 for most of his career.   This season, with Halpern a UFA and not re-signed by the Canadiens, #24 became available again and Tinordi wore it from the start of training camp and ever since he was re-called from Hamilton.
Now let's look at all the new numbers for 2013-14.
#48 – Daniel Brière:  The Canadiens big splash in the off-season Free-Agent market was signing Brière to a two year contract. Brière has been wearing #48 since his days with Buffalo.  #48 was first worm back in the 1930's, and then for fifty years, no one wore it until Canadiens current Assistant Coach Jean-Jacques Daigneault wore it for 7 seasons with the Habs (1989-96).
#15 – George Parros:  George Parros was acquired in the off-season from the Florida Panthers.  This marks the first season Parros wears #15 in his 9 year NHL career.  Fifty-two other players wore #15 prior to Parros.  Amongst which Bobby Rousseau in the 60's.  Former Habs GM Rejean Houle from 1976-'83.  And Bobby Smith from 1983-'90.  #15 was last worn last seaon by Petteri Nokelainen.
#6 – Douglas Murray:  Douglas Murray was another off-season Free Agent acquisition my the Canadiens.  It marks the first time Murray wears #6 having worn #3 with both San Jose and Pittsburgh.  Number 6 was first worn during the 1911-12 season.  In total 36 players wore it before Murray.  Some notable names include Howie Morenz in his rookie season wore it briefly before he switched to #7.   Toe Blake wore it for 11 seasons in his playing career as a Canadien.  Ralph Backstrom wore it the longest over a span of 13 seasons (1958-71).  More recently Pierre Mondou (1977-85), Russ Courtnall (1988-92), Oleg Petrov (1992-96), and Jaroslav Spacek was the last Canadiens player to wear it  (2009-12).
#49 – Michael Bournival:  The Canadiens rookie Michael Bournival made the team out of training camp this season.  Bournival wears #49, a number that hasn't been worn since Brian Savage wore it from 1993-2002.  Bournival becomes the third player to wear #49; Brain Savage and Luc Gauthier (1990-91) were the others.
 #82 – Patrick Holland:   As a mid-season call-up by the Canadiens, Patrick Holland played his first 5 games in the NHL.  Holland was given #82, the same number he wore at training camp.  He joins Donald Audette as the only other Canadien to wear #82.
 #57 – Martin St-Pierre:  As a journey-man centreman, St-Pierre got called up to the NHL this season having last played in the NHL for the Ottawa Senators in the 2009-10 season.  For his one game with the Canadiens this season, St-Pierre wore #57.  The number was first worn by Chris Murray back in 1994.  The last Habs player to wear #57 was Blake Geoffrion before a head injury, while playing with the Canadiens farm club during last season, forced Geoffrion to retire.
#28 – Joonas Nattinen:  As another one game call-up by the Canadiens, centre-man Joonas Nattinen wore #28 which was first worn in the 1976-77 season.  One time 50 goal scorer Pierre Larouche wore #28 from 1977-82.  Eric Desjardins wore it between 1988-95.   Other notables include Craig Conroy for one season, 1994-95, Dainus Zubrus  in 1998-99.  And most recently Kyle Chipchura , 2007-09.
#60 – Christian Thomas: Christian Thomas was acquired in trade with the New York Rangers during the off-season.  Thomas was called up for two games.  He wore #60.  Only two players wore it before him,  Jose Theodore wore it for ten seasons (1996-2006).  And Aaron Palushaj wore it for his one season with the club, 2011-12.
 #35 – Dustin Tokarski:  As a fill in for injured Carey Price following the Olympics, Tokarski got two starts with the big club.  He was given #35.  Surprisingly #35 was first used by Mike McPhee from 1983-92.  When Tomas Plekanec first broke into the NHL he wore #35 from 2003-07.  Three other goalies have used #35; Andy Moog, Stephane Fiset, and Alex Auld was the last goalie to wear it.
# 22 – Dale Weise:   Dale Weise was acquired prior to the trade deadline date from Vancouver.  Weise wore #32 with the Canucks but that number is  taken by Travis Moen.  So Weise settled for #22.  Its been used 35 times prior.  Among which John Ferguson 1963-71, and Steve Shutt 1972-85.  It was last used by Tomas Kaberle in 2011-13.
#43 – Mike Weaver:  As a trade deadline acquisition from Florida Panthers, Mike Weaver was able to get the number he wore when he first broke into the NHL with the Atlanta Thrashers back in 2002.,  Weaver also wore #43 with the L.A. Kings, St. Louis Blues, and with the Florida Panthers.   Weaver becomes the fourth Habs player to wear #43.  He joins Benoit Brunet, Andrew Cassels, and Patrice Brisebois as the only players ever to wear #43 with the Canadiens.
#20 – Thomas Vanek:  Acquired on trade deadline day, Thomas Vanek had to find a new number seeing the only number he's worn in the NHL, #26, is used by Josh Gorges.  So Vanek settled for #20. It's a number that has been widely used in the Canadiens 100+ years of history.  Sixty different players have worn it prior to Vanek arriving.  Pete Mahovlich wore in the longest between 1969-78.  Jean Beliveau wore it briefly when he was first called up from the Quebec Aces, wearing it in the 1950-51 season.  Guy Carbonneau too wore it when he was first called up back in 1980 before he switched to #21.  Richard Zednick wore it over a span of 6 seasons 1990-96.  And Colby Armstrong wore it last season, his only season with the Canadiens.
For Habs tickets, click here.
For Habs merchandise, click here.