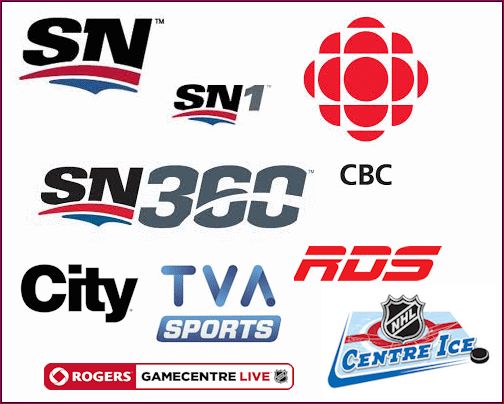 I want to preface this blog posting my thanking Steve Faguy and his numerous blog postings on this subject that helps explain the impact of the new NHL TV rights deal which will change the landscape of hockey viewing in Canada.
It is only now, a few days prior to the start of the 2014–15 NHL hockey season, that fans in Canada are coming to grips with what the new TV deal with Rogers means for them.
In the past, catching a Canadiens game on TV followed a simple script.  In English, all Saturday games were on CBC.  For fans out West, all they had to do was tune to CBC-Montreal on their cable or satellite guide and watch the game.  For mid week games, if fans lived east of Pembroke or Belleville, ON, and had Bell-TV or Bell Aliant, they had access to the TSN-HABS channel.  If they didn't, no worries, RDS carried all the games, so Habs fans simply had to add RDS to their TV package, and voila, all 82 games were at their disposal.
Well those simple days are over.
Rogers was awarded the national TV rights to NHL broadcasts, in English.  And TVA was awarded the same package in French.   In essence here are the details on what it means to the average viewer.
Rogers and TVA Sports have national rights to every Canadian hockey team. with a minimum of 22 Saturday games, and all the playoffs games.  Each team can negotiate a temperate regional TV deal for the remainder 60 games.
The Canadiens have English and French language deals differ slightly.  So I will explain each.
Here is the complete Montreal Canadiens broadcast schedule.
English:
This seasons marks the first time in the history of the Montreal Canadiens that all 82 games will be televised in Engllish.  Because the Canadiens were late in finalizing a regional TV deal, Rogers increased their national rights package to 40 nationally televised Habs games.    It breaks down as follows:
National
22 Saturday games on Hockey Night in Canada (first four are on City-TV).  HNIC refers to either CBC, Sportsnet E/O/W/P, Sportsnet One, or Sportsnet 360.  Prior to the games played, Rogers will announce which channel will be showing the game.
4 Sunday games on City-TV
2 Sunday games on Sportsnet E/O/W/P
1 Monday game on Sportsnet One
6 Wednesday games on Sportsnet E/O/W/P
4 Thursday games on Sportsnet 360
1 Friday game on Sportsnet E/O/W/P
Regional
In August, the Canadiens reached a three year deal to broadcast 42 games Regionally on Sportsnet East (37 games), and City-Montreal (5 games).  John Bartlett leaves TSN690 radio to handle the play by play duties for Habs regional broadcasts.  He will be joined by former NHLer jason York.  These games will be blacked out to viewers west of Pembroke or Belleville, ON.
To determine which regional network you are part of, enter your postal code here.
French:  
TVA Sports is the national broadcast rights holder for all Saturday night games:
National
1 Wednesday night game (Opening game October 8)
21 Saturday night games.
Regional:  The Canadiens French language regional rights were awarded to RDS, whom the Canadiens have had a long history with.  However, in the past RDS had a special exemption with the NHL, allowing RDS to broadcast all national and regional Habs games across Canada because RDS had the rights to both National and Regional NHL games.  With TVA Sports being awarded the national rights, RDS loses that exemption,  meaning fans living outside the Canadiens regional zone will no longer be able to catch Habs mid-week games on RDS.
So how can fans living West of Pembroke and Belleville watch Canadiens games?
Answer:  For starters, for HAbs fans across Canada, the 40 nationally televised games, they need to have the following channels ; CBC, Sportsnet, Sportsnet One, Sportsnet360, and City-TV.
For the remainder 42 Habs regional games, fans can subscribe to NHL centre Ice for $200.
OR
Rogers recently announced that all Habs regional games will be available via online streaming on NHL GameCentre Live for $60.  They will have a choice to watch those games in French (RDS) or English.  NHL GameCentre live is available via online streaming.  Do not confuse NHL Centre Ice with NHL GameCentre Live.  NHL Centre Ice is offered to cable and satellite providers.  At the moment, none of the TV providers (Rogers, Bell, Shaw, Videotron, Cogeco, etc.)  are offering the $60 Habs online streaming package on their NHL Centre Ice offerings.   This offering will be available closer to the start of the season.  Click here.
Others have asked, what if they subscribe to TVA Sports, will they be able to catch the Canadiens games?  Answer:  The 22 games that TVA Sports carry will also be available in English on either CBC/Sportsnet/Sportsnet One/ Sportsnet 360, or CITY.
if you have any questions, drop me a line and I will try to answer you.
For Habs tickets, click here.
For Habs merchandise, click here.