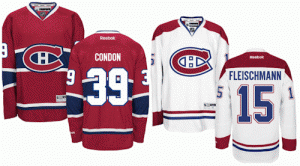 Every season there is always changeover on any NHL team.  This season marks the fourth season with GM Marc Bergevin at the helm, and the the least new faces to start the season.  There have only been four new faces; Tomas Fleischmann who was a Player Try-Out sign on at training camp; Alexander Semin who was a free-agent signing during the off-season, rookie Mike Condon who beat out Dustin Tokarski for the back-up goalie spot, and finally Paul Byron who was claimed off waivers from Calgary at the start of the season.
(I'm excluding Zack Kassian acquired in exchange for Brandon Prust on July 1st, because Kassian is suspended by the NHL and might never play 1 game for the Canadiens).
Maybe part of the reason for the lack of new faces to start the 2015-16 season is two-fold.
One can argue GM Bergevin brought in three new faces at last season's trade deadline and was able to retain them during the off-season (Jeff Petry and Torrey Mitchell re-signed with the Canadiens, and Brian Flynn was already under contact).
Or maybe, just maybe, the reason why there are fewer new faces is because Canadiens management believe this team is closer to contend once again for the Stanley Cup than in previous yes!  Yes it's never too early to talk about the Stanley Cup.  In fact you can bookmark this post for the link to Stanley Cup Tickets.
Now onto the new numbers …
First off, number change.
# 6 Greg Pateryn.  
Since Pateryn was first called up by the Canadiens back in 2012-13, Pateryn always wore #64.  But this season he switched to a more traditional number, #6.  The last few players to wear #6 for the Canadiens have been defenceman.  Bryan Allen was the last player to wear #6.  Before him, Douglas Murray, Jaro Spacek wore it too.  Pierre Mondou wore it for the longest tenure over a span of 8 seasons (1977-85).  Russ Courtnall wore it with distinction for 4 seasons (1988-92).
And now the new faces.
#13 Alexander Semin
Before joining the Canadiens, Alex Semin always wore #28 with Washington or Carolina.  But Nathan Beaulieu wears that number.  So Semin went with Lucky #13.  past players to wear it were Mike Cammalleri, and Alex Tanguay.
#15 Tomas Fleischmann
Tomas Fleischmann has played 5 different NHL clubs.  He wore #43 with Washington, and number 14 with Colorado, Florida and Anaheim.  #14 is currently taken by his country-man Tomas Plekanec.  So Fleishmann chose #15.  The number was last used last season by P-A Parenteau.  Notable names to wear #15 for the Canadiens are Bobby Smith, Rejean Houle, Bobby Rousseau, and even Maurice Richard wore once when he was called up back in 1943 before he switched to # 9.
#39 Mike Condon
Mike Condon had a superb training camp and beat out incumbent back-up Dustin Tokarski for the job.  Condon, a rookie, was given #39.  The last time #39 was used was when Cristobal Huet played between the pipes for the habs between 2005-2009.  Brian Skrudland was the first ever Canadien to wear #39, and wore it the longest, back in 1985-93.
#41 Paul Byron
Montreal is the third stop for this versatile winger, having played with Buffalo and Calgary previously, and always choosing a different number with each team.  Only four other players in the history of the Canadiens have worn #41.  they are Brent Gilchrist, Jocelyn Thibault, Eric Fichard, and Jaroslav Halak.
Canadiens fans are hoping this is the winning combination to make it deep into the Stanley Cup Playoffs for 2015-16.