Latest Habs Rumors and News
by Alex Chambers, Special to GOHABS.com
There's no denying that the Habs had a truly disappointing season – having started the season with a glorious 9 game winning streak it was little wonder that the Habs were the team most backed to win the Stanley Cup this year. But, almost overnight, the team went from glory to failure and were the team to have gained the least points since December. It was no surprise really when the team lost all hope of Stanley Cup contention in March after their loss to the Rangers.
To come back from such disappointment the Habs will need to work on their team before next season with new signings and returns from injury. Here are all the latest team rumors:
The Habs are desperate to get outstanding KHL scorer Vadim Shipachyov out of SKA St. Petersburg and the KHL league and into a HABs jersey. Shipachyov, 29, has had an outstanding 60-point season. Although other NHL teams have shown interest, it has been rumored that the Habs and Shipachyov are getting closer to signing a deal.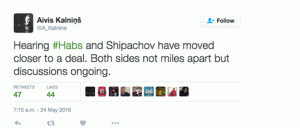 However there may be a clause in Shipachyov's contract that means that he'll have to play another year in Russia before he can come to the NHL.
It's looking more and more likely that the Habs will lose Bud Holloway to the KHL before the start of next season. Although the 28 year-old was only signed last year as a free agent, he has only played one game for Montreal this season so is likely looking overseas for better success.
Russian website Championat.com has reported that Holloway has signed a deal with CSKA Moscow, however nothing has been confirmed with the Habs yet.
Martin Reway is set to take up a Habs jersey next season after signing a 3 year contract with the team. Although Reway plays mainly center – where the Habs are pretty full – he can also play wing which could be useful for the Habs. Particularly useful as a secondary scorer, he is also an impressive passer.
Jeremiah Addison has just completed his fourth year of junior hockey with Ottawa 67's and it was an impressive season for the defensive forward. He had a career best with 26 goals and 27 assists in just 66 games. If the Habs decide not to sign Addison this year it is likely that he'll play an overage season with Ottawa.
Injury wise, all injured players – including the much missed Carey Price – are likely to return fully fit for next season. It's no coincidence that the Habs began losing after Price was put out for the season so his return will be a much needed boost for the team.