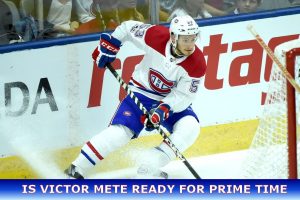 The start of the Montreal Canadiens' 2017-18 season will be remembered as a season in flux for the team's defense core.
Gone, by design or not are:
Andrei Markov (signed with KHL)
Alexei Emelin (lost to expansion draft to Las Vegas and then traded to Nashville)
Nathan Beaulieu (traded in off-season to Buffalo for a 2017 3rd Rnd Pick-  Scott Walford, D)
Who would have imagined that after last season, Habs would lose three regulars on defence. Four, if you include Sergei Sergachev, because everyone were anticipating Sergachev would crack the Canadiens lineup this season.  But Sergachev too was dealt in the off-season , to Tampa Bay in the Johnathan Drouin trade.
The Canadiens will once again look to Shea Weber to provide the leadership on the blue line.  In addition, the team will rely of UFA signing Karl Azner to play top-2 pairing.  Along with Jeff Petry and Jordie Benn.
Leaving NHL castoffs like Joe Morrow and Mark Streit (since released by the Canadiens) to partner with David Schlemko, who was acquired in a trade with Vegas Golden Knights.  Schlemko has been on Injured Reserve since gtraining camp.
But one wild card in all of this was the emergence of 19 year old junior player Victor Mete.  Although Mete has looked well in pre-season action and for the most part in the CAnadiens first 10 games, is he ready to grind out a season playing with the big boys?
Had the Canadiens not been so weak on defense this training camp, Mete would not have received all the attention he' received.
Mete has already played 10 games this season.  This means he loses a year in entry level eligibility.  The next date on the Canadiens radar is 40 games.  If Victor mete is still on the Canadiens roster come Game #40, Mete's 2017-18 season counts as one year towards unrestricted free-agency.
In the meantime, Mete was notified to find a home in Montreal.  And his mom from Woodbridge Ontario will move in with him.
Finally, we can conclude, after 5 full seasons as Habs GM, Marc Bergevin has completely overhauled the Canadien's defense as these are all players Bergevin has brought.  And note, only Victor Mete was a Bergevin draft pick.
For Habs Pro Shop merchandise visit here
For Habs Tickets, visit here