It's been almost three weeks since my last post.  In that time the NHL held its NHL Draft and Free Agency has begun.  Not to mention the Canadiens held their Development Camp.
June 26:  NHL Entry Draft
| 1st Rnd – 26th overall | NOAH JUULSEN - D (WHL) |
| --- | --- |
| 3rd Rnd – 87th overall | LUKAS VEJDEMO - C (Sweden) |
| 5th Rnd – 131st | MATTHEW BRADLEY - C (WHL) |
| 6th Rnd – 177th | SIMON BOURQUE - D (QMJHL) |
| 7th Rnd – 207th | JEREMIAH ADDISON - LW (OHL) |
June 27:  Canadiens modify their ionic jersey
The Canadiens announced they will modify ever so slightly their jerseys for the 2015-16 season.  The changes include:
• Hexagonal copper grommets and white laces
• All-white collar
• the collar will have  "LNH" for Ligue Nationale de Hockey.
The last time the canadiens modified their jersey was back in 2007.  And the Canadiens had laces on their jerseys from the 1940s to 1974.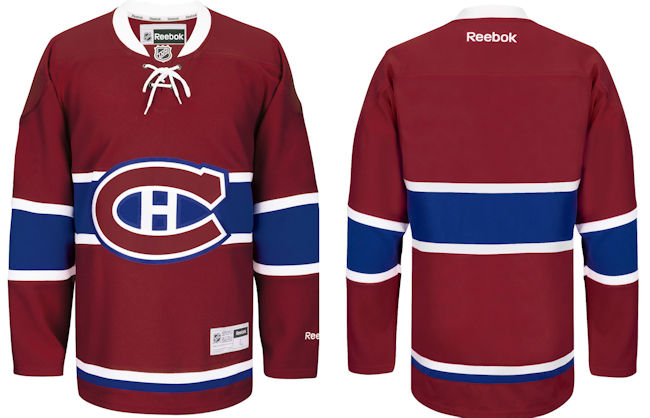 June 28:  Canadiens buy-out P-A Parenteau
In a move to get some much needed salary cap relief, the Canadiens bought out the final year of P-A Parenteau's contract.  Parenteau was scheduled to earn $4M in 2015-16.  he will get $1.33M for the next two seasons instead.  On top of his salary that he will get with Toronto Maple leafs as Parenteau signed with Toronto on July 1st.
June 30:  Habs sign a pair
On the eve of Free Agency, Habs signed restricted Free Agents Brian Flynn and extended the contract of Greg Pateryn.  Flynn signed a 2 years, $1.9M , whereas defenceman Pateryn earns an extension.  Already signed for 2015-16 at $562.5K, Pateryn will make $800K for 2016-17, and 2017-18.
July 1:  The start to Free Agency Frenzy
Turns out it was not much of a frenzy for Habs fans and especially for Habs GM Marc Bergevin.  Bergevin did not sign any free agents, instead opted to trade Brandon Prust to the Vancounver Canucks for Zack Kassian and a 2016 5th Round Pick.  This marks Kassian's third organization in his young career.  The tarde makes the Canadiens younger, and saves on the Cap.
Tale of the tape:

Brandon Prust was shocked hearing about the trade while vacationing in Rome with his fiancée MariPier Morin.  In fact this was their last tweet just prior to finding out about the trade.
Bonne fête du Canada! Dernière journée en 🇮🇹 pour nous! #ciaoroma Happy Canada day everyone! Last day in 🇮🇹 for us! pic.twitter.com/tdsgW32fmS

— Maripier Morin (@maripiermorin) July 1, 2015
Brandon prust went on to thanks the Canadiens.
1) Just want to thank the @CanadiensMTL, the city of Montreal n all of Habs nation for being great to me the last 3 seasons

— Brandon Prust (@BrandonPrust8) July 1, 2015
July 1st:  Habs sign UFA defenceman Mark Barberio
Montreal local boy mark barberio signed as a free agent with the Montreal Canadiens.  Having come up with the Tampa bay organization, Bareberio, 25 years old, has already appeared in 103 NHL games.  Barberio signed a 1 year, 2-way deal with the Canadiens.
Mark Barberio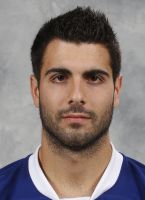 Defense — shoots L
Born Mar 23 1990 — Montreal, PQ
[25 yrs. ago]
Height 6.01 — Weight 185 [185 cm/84 kg]
July 5. Montreal Canadiens held their Development camp.  
In total 43 players were invited to camp including their recent first round pick Noah Juulsen, and first round picks from 2013 (Michael McCarron)  and 2014 (Nikita Scherbak).
Amongst the other players also getting added attention were, Sven Andrighetto who played 12 games with the Habs in 2014-15.  Daniel Carr, Charles Hudon.
Dave Stubbs reports from Habs dev Cap.  Read story here.
List of players that were invited to Development Camp.
Re-Signings
The Canadiens also announced the re-signing of the following
| July 2 | Christian Thomas - F | 1 year, 2-way deal ($600K - NHL) |
| --- | --- | --- |
| July 2 | Noah Juulsen - F | 3 year entry level deal ($2.775 / 3 years) |
| July 13 | Ryan Johnston | UFA, Habs development camp, 2 year-2 way ($680K / season - NHL) |
| July 14 | Michael Bournival - F | 1 year, 2-way deal ($600K - NHL) |
| July 15 | Jarred Tinordi - D | 1 year, 2-way ($850K - NHL) |
July 10:  Max Pacioretty suffers knee injury, out 12 weeks
Seems Max Pacioretty always has an injury to overcome.  Luckily this happened during the off-season while doing dry-land cross-fit like training.  No surgery required, but he'll miss all of training camp.  Read story here.
July 12:  The oldest living Canadien, Bob Fillion celebrates his 95th birthday.
Fillion played in 327 games all with the Canadiens  between 1943-1950.  As posted by Dave Stubbs…
Happy 95th birthday to 1940s #Habs LW Bob Fillion, the oldest living Canadien http://t.co/FmZ65lAWXL pic.twitter.com/SJeIxQEUJM

— Dave Stubbs (@Dave_Stubbs) July 12, 2015
And finally, still no news on Alex Galchenyuk.  the last remaining RFA for the Canadiens as the Canadiens are trying to get him to sign a 2 year bridge deal, as they currently have just over $7 million in cap space remaining.
Happy Summer!