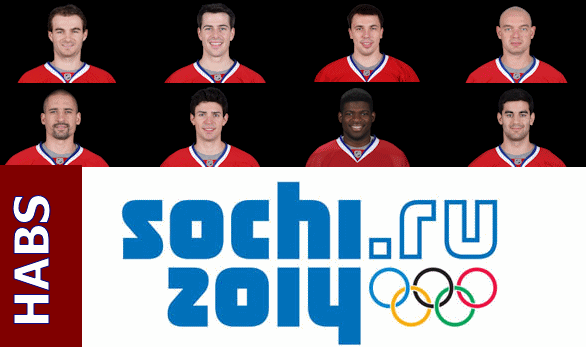 This past week was the deadline for Hockey Federations participating in the Winter Olympics  in Sochi to submit their team rosters.  The Montreal Canadiens will have 8 members going to Sochi.
They are:
Canada: Carey Price (G), P.K. Subban (D)
Czech Republic: Tomas Plekanec (F)
Russia: Andrei Markov (D), Alexei Emelin (D)
Slovakia: Peter Budaj (G)
Switzerland: Raphael Diaz (D)
U.S.A:  Max Pacioretty (F)
For Peter Budaj, Tomas Plekanec, and Raphael Diaz, these Olympics will mark their second consecutive Olympics they will participate in.  For Carey Price and P.K. Subban, this marks the first time members of the Montreal Canadiens make Team Canada since 1998 when Shayne Corson and Mark Recchi participated.  1998 was also the year NHL players first took part in the Olympics.
With 8 members of the Habs going to Sochi, only Chicago Blackhawks, Detroit Red Wings, and St. Louis Blues have more players than the Canadiens going to the Olympics, with each team sending 10 players.
At the beginning of the season I predicted up to 10 Canadiens could be going to Sochi.  But Alex Galchenyuk was deemed too young by Team USA and left aside.  And Lars Eller, by far the best player for Team Denmark, well it never dawned on me that Team Denmark's hockey team did not qualify for the 2014 Winter Olympics.
Below is the complete Schedule for Ice Hockey sport at the 2014 Winter Olympics.
PRELIMINARY ROUND

Group A
Russia
Slovenia
Slovakia
United States

Group B
Austria
Canada
Finland
Norway

Group C
Czech Republic
Latvia
Switzerland
Sweden

WED, FEB 12
1
21:00 C
Czech Republic
vs.
Sweden
2
21:00 C
Latvia
vs.
Switzerland
THU, FEB 13
3
12:00 B
Finland
vs.
Austria
4
16:30 A
Russia
vs.
Slovenia
5
16:30 A
Slovakia
vs.
United States
6
21:00 B
Canada
vs.
Norway
FRI, FEB 14
7
12:00 C
Czech Republic
vs.
Latvia
8
16:30 C
Sweden
vs.
Switzerland
9
21:00 B
Canada
vs.
Austria
10
21:00 B
Norway
vs.
Finland
SAT, FEB 15
11
12:00 A
Slovakia
vs.
Slovenia
12
16:30 A
United States
vs.
Russia
13
21:00 C
Switzerland
vs.
Czech Republic
14
21:00 C
Sweden
vs.
Latvia
SUN, FEB 16
15
12:00 B
Austria
vs.
Norway
16
16:30 A
Russia
vs.
Slovakia
17
16:30 A
Slovenia
vs.
United States
18
21:00 B
Finland
vs.
Canada

QUALIFICATION PLAY-OFF

TUE, FEB 18
19
12:00
tbd
20
16:30
tbd
21
21:00
tbd
22
21:00
tbd

QUARTERFINALS

WED, FEB 19
23
12:00
tbd
24
16:30
tbd
25
21:00
tbd
26
21:00
tbd

SEMIFINALS

FRI, FEB 21
27
16:00
tbd
28
21:00
tbd

BRONZE MEDAL GAME

SAT, FEB 22
29
19:00
L27
vs.
L28

GOLD MEDAL GAME

SUN, FEB 23
30
16:00
W27
vs.
W28