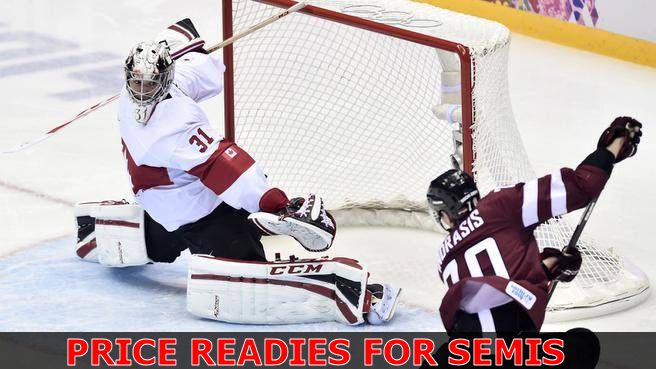 Heading into the Sochi Olympic Winter Games, the Montreal Canadiens were represented by 7 players.  Through the Quarter Finals, only three players remain; Carey Price and P.K. Subban for Team Canada, and Max Pacioretty for Team USA.  Meaning the Montreal Canadiens will have at least one representative for the Gold Medal match on Sunday Feb. 23, as Canada and USA square off in the Semi-Finals on Friday February 21.  Team Sweden plays Team Finland in the other Semi-Final match.
So far, Carey Price is the only Habs player who has distinguished himself in these games, has posted 3 wins, and a GAA of 0.99 and SV% of 0.941.
As for the other Habs, well P.K. Subban has only played in one game.  Tomas Plekanec, although picking up 4 points in 5 games, did all he could captaining an ageing Czech Team.  Peter Budaj, playing for Slovakia where their coach totally mishandled the goalkeeping duties, posted a poor GAA of 4.53 in parts of 2 games.  Max Pacioretty looks to be nursing a bruise (sustained from his last NHL game prior to the Olympics).   And Andrei Markov and Alexei Emelin proved to many that Russia really needs to start developing defenseman to be considered an elite team.
Below are the stats of Canadiens players through the Quarter Finals.

For Habs tickets, click here.
For Habs merchandise, click here.