As the Montreal Canadiens embark on a new season, it is always interesting to see how many new faces are in the Canadiens line-up as opposed to one year ago, and compared to end of last season.
In 2013-14, the Montreal Canadiens started the season on October 1st against the Toronto Maple Leafs.  Gone are veterans Josh Gorges (Buffalo, via trade), Raphael Diaz (Calgary, UFA), Francis Bouillon (UFA).  Although Douglas Murray started last season on Injured Reserve, he was still with the club.  But Murray too is a UFA and no longer with the Montreal Canadiens organization.
Safe to assume that the Habs defence heading into 2014-15 are younger and quicker.  In their places, the Canadiens added Mike Weaver (acquired at trade deadline and re-signed UFA from last year), and Tom Gilbert (UFA from Florida).  Although both  Nathan Beaulieu and Jared Tinordi started with the Canadiens last season, they were often sent down to the minors once the injured players returned.  Expect both Beaulieu and Tinordi to stick with the club all season.
Up front, four players that started with the Canadiens last season are no longer with the club.  Gone is the team captain Brian Gionta (Buffalo, UFA).  The role of enforcer seems to be a dying breed nowadays in the NHL as George Parros wasn't retained and he's still a UFA and most likely won't play another NHL game.  Ryan White too was signed as a UFA with the Philadelphia Flyers.  And during the off-season Daniel Briere was traded to Colorado for P-A Parenteau.
Tomas Vanek, who was a Marc Bergevin's prized trade deadline acquisition last season, signed with Minnesota as a UFA in the off season.
Other than P-A Parenteau, new faces with the Habs from a year ago include Dale Weise (a trade deadline pickup from last year), Manny Maholtra (UFA, Carolina) , and 22 year old Jiri Sekac, a UFA from the Czech Republic.
In goal, at the end of Training Camp, Peter Budaj was shipped off to the Winnipeg Jets organization to make room for for newly appointed back-up Dustin Tokarski, who saw action as Carey Price's replacement during last season's playoffs and supplanted Budaj in the process.
To conclude, the number of new faces from start of last season; 7 (Tokarski, Gilbert, Weaver, Parenteau, Weise, Sekac, Mahotra).
The number of new players from end of last season; 4 (Gilbert, Parenteau, Sekac, Mahotra).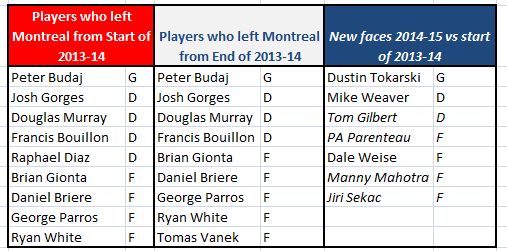 For Habs tickets, click here.
For Habs merchandise, click here.