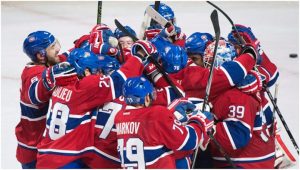 It's Time For The Canadiens To Stop Falling Short of Expectations
by Joe  Messineo, Special to GOHABS.com
Last year, there was arguably no better team in hockey than the Montreal Canadiens, through about six weeks of the season. Then Carey Price went down and never came back. Montreal went from 17-4-2 to 38-38-6 and finished sixth in the Atlantic division. 93 points was good enough to make the postseason out of the Eastern Conference, but the Canadiens fell well short of that mark with what turned into a hole at goaltender and uneven offensive and defensive production.
93 points is a light year though. The season prior, it took 98 points to grab the eighth seed in the East. There is no telling where that benchmark will fall ahead of time. But assuming something in the range of 90-95 points is necessary to make the Stanley Cup Playoffs as a wildcard, do the Canadiens have enough to challenge for a spot in 2016-17? The answer is yes with a caveat.
First off, the P.K. Subban trade for Shea Weber isn't as big a travesty as everyone is making it out to be. Weber is still an elite defenseman in the NHL. Perhaps he won't age well; he is already close to four years older than Subban. But for this coming season, Weber can be just as good, if not better, than Subban. He is coming off of seven straight 40-point seasons (not counting the strike-shortened 2012-13 season where Weber played all 48 games). Weber has also tallied at least 15 goals in all seven of those seasons, a plateau Subban has reached just one time in his seven-year career.
Not only is it possible Weber provides an upgrade over Subban's production for this coming season, but Montreal also made a number of other additions this offseason. The Canadiens signed  wingers Alexander Radulov and Andrew Shaw, and defenseman Zach Redmond. And, of course, there is the indisputable advantage of having Price return healthy to goal.
A lack of Price wasn't the team's only shortcoming last season, but it was the main one. This is a guy who's already won a Vezina and a Hart trophy and led the league in wins twice. He was 10-2-0 last season before going down for good. It's easy to make a case that Price is the best goaltender in the sport. Adding that to a team automatically makes them a playoff contender.
Other than a goalie upgrade, Montreal will need to improve in some other areas. They were a middle-of-the-road team in goal production and well below that in power-play conversions and shooting percentage. But there are positive signs that those areas will see upgrades regardless of personnel changes. The Canadiens were eighth in hockey in Corsi For Percentage last year, which measures a team's puck possession. It sounds basic, but the more often a team possesses the puck (and takes aim at the opposing goal), the more likely it is to win. Montreal was pretty good at possessing the puck. Over a large enough sample, that will result in more offense.
Last year, the Atlantic was the far easier division in the East. Only Florida would have even finished in the top four of the Metropolitan, and only two teams even topped 93 points. That won't necessarily translate to how these teams finish next season; Tampa Bay should be good again; Boston may rebound, etc. But the door is open for Montreal to make a move up the standings. A higher producing offense, combined with a healthy return of Price, should result in a playoff berth for the Canadiens come next spring. After all, this was the best team in hockey to start last season.