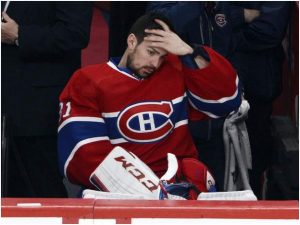 The Carey Price Injury: What Could Have Been
by Joe  Messineo , Special to GOHABS.com
When the Montreal Canadiens traveled to Vancouver to prepare to take on the Canucks on October 27 of the 2015-16 NHL season, they sat at 9-0-0; the best team in the league. At that point, goalie Carey Price was himself 7-0-0, with backup Mike Condon handling 2 of those wins.
A month later, on November 25, the Canadiens sat with a still marvelous record of 17-4-2. Price had missed a string of games in November in which the team went 4-2-2, but he returned to win three straight for the club. With a record of 10-2, November 25th was the last game Price would play in the '15-'16 season.
He wouldn't be completely shut down with his MCL injury. Instead, his possible return lingered through the spring as Montreal collapsed without his services. From that 17-4-2 mark, the team finished 21-34-4 to crumple to a 38-38-6 season and a sixth-place finish in the Atlantic division. It cycled through four different goaltenders outside of Price, trying to find some consistency that was out of reach. In just 12 appearances, Price's two shutouts led the club, as the team only managed to earn one other shutout late in the season with Condon in the net.
Though Montreal couldn't overcome his nearly year-long absence, it begs the question, where would this team have been had Price not gone down? It's a fool's errand to truly examine what-ifs in the world of sports, but with the way the Canadiens started the season, it remains interesting to explore.
In those 12 Price games, albeit a small sample size, Montreal killed off 39 of 44 opponent power plays. That 88.6 percent mark dwarfed where the team finished with less reliable goaltending backing up the penalty kill. Even more interestingly, the Canadien offense wasn't too shabby all year despite the weak record. Based on Corsi, which measures a team's puck possession by calculating all shots plus misses plus blocked shots, Montreal finished with the eighth-best mark in the NHL. It ranked ahead of Stanley Cup finalist San Jose in both offensive opportunities generated and CF%.
The real undoing of Montreal was not an underachieving offense or unreliable special teams, though the latter certainly took a hit. It was goaltending through and through. The Canadiens ranked 25th in the league in team save percentage even factoring in Price's unbelievable beginning. This wasn't a one-man team, but the team lost the one man it couldn't succeed without.
Price had never started fewer than 38 games in a season prior to last year. He was also coming off of the very best season of his career when he went 44-16-6 in 2014-15, with a minuscule 1.96 goals-against average and .933 save percentage. It was so good a year, Price not only won the Vezina Trophy as the best goalie in the NHL; he also won the Hart as the league's MVP. Then he began last season somehow with a save percentage even better and a GAA right in line with where he left off.
It's impossible to know for sure what would have happened with this team had it had a healthy Price because, the fact is, it did not. However, he was on his way to challenging yet again for the mark of best goalie in the sport. That possibility surely fills Canadiens fans with disgust at the way the season turned out, but fortunately, Price will be ready to yet again pick up where he left off for this coming season.
email: Joe Messineo