Montreal Canadiens Bell Centre
1909 avenue des Canadiens-de-Montréal
Montreal, Quebec
H3B 5E8
(514) 932-2582; (800) 363-8162
Administration
1275 St-Antoine Street West
Montréal, Québec H3C 5H8
Centre Bell Seating Layout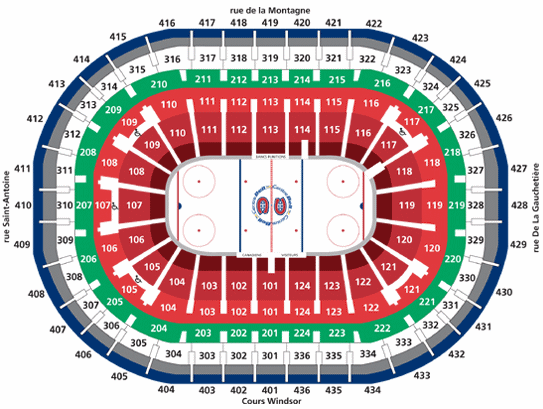 Facts

Official opening: Saturday March 16, 1996 ( vs. NY Rangers).
Seating Capacity: 21,273 seats.

136 private boxes.

2,500 Club Seats.

Prestige Section (first eight rows).

Giant HD jumbotron measuring 25 by 40 feet of video space (4 screens).
Bell Centre Box-Office; Information: (514) 989-2841

BOX OFFICE Hours:
Non-event days
Monday to Friday: 10:00 AM to 6:00 PM.
During Hockey Season
On Saturdays: 10:00 AM to 6:00 PM
Event Days: 10:00 Am to 9:00 PM
Canadiens Hall of Fame: Information: (514) 925-7777


Tuesday to Saturday from 10:00 a.m. to 6:00 p.m
Sunday from 12:00 p.m. to 5:00 p.m.

Admission: Adult (17 years and over): $10.50
Senior (65 years and over): $7.50
Youth (5 to 16 years inclusive): $7.50
Children 4 and under: FREE
Family*: $32
Game day (with ticket to that night's game): $5.50
Bell Centre Tours: Information: (514) 925-5656


Complement your visit to the Montreal Canadiens Hall of Fame with a guided tour of the Bell Centre for an additional $5.50. Please note that Bell Centre tours may not be available on days of certain events.
See January or February schedule.