Montreal Canadiens Jerseys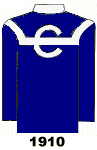 Although not much has changed in Canadiens uniform colours, the team's colors did go through several transformations in its earlier days. When J. Abrose O'Brien founded the team on December 4, 1909, it was known as Club Canadien. For its first home game at the Jubilee Rink, players wore a navy blue sweater with a narrow white band at the shoulder and chest and a large white "C". The pants were white, the stockings red.

The next year, George Kennedy purchased the team. A red sweater with a green maple leaf bearing a gothic "C" was the uniform.

The following year, the uniform was changed once again. This time it became a "barber pole" model with blue, white and red stripes. The front of the sweater featured a small white crest with the letters "CAC" for Club Athlétique Canadien.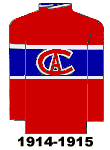 For the 1914-15 season, the new Canadiens uniform became the same design and colors worn today. The large "C" was worn for the first time with a smaller "A" within the "C" to signify Club Athlétique Canadien. The Canadiens wore this uniform in spring of 1916 when they captured their first Stanley Cup.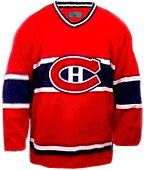 The following year, 1916-17, the Club Athlétique Canadiens was no longer in business. Team owner Kennedy replaced the "A" inside the large "C" with the letter "H". The sweater for the Club de Hockey Canadien has remained largely unchanged ever since.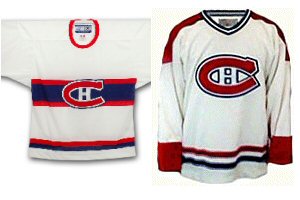 The white uniform, worn in home games since 1968, was first worn in 1945 (the 1945 jersey is now the Canadiens official Vintage Jersey). The original white sweater had a wide blue band at chest level and a blue band on each sleeve. The crest was the same as the one used today, but in the early '50's, the blue band was eliminated, and ever since the white sweater has had red shoulder inserts and narrow red and blue bands across the bottom.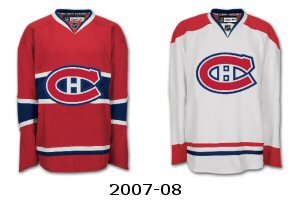 For the 2007-08 season, the NHL re-designed new jerseys for all the teams. The Canadiens' jersey saw little change except with the now standard V-Neck, and improved performace apparel.
Courtesy of: Les Canadiens Yearbook